Pumpkin Pie Martini & Mocktail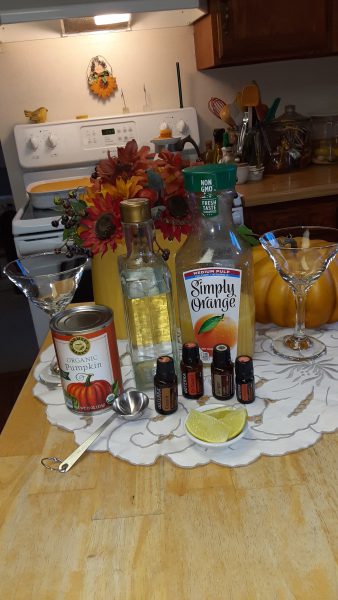 Here's a sneaky way to get in an extra serving of vegetables – for you or your kids! This is an adaptable drink with a pumpkin puree base. Use your favorite essential oil that you have on hand. Mix a big batch for yourself and your family, and store some in the fridge for later. Cheers!
Ingredients
1 Tbsp. pumpkin pureé
1 ½ oz. vodka
1/3 cup fresh orange juice
1 drop essential oil – Wild Orange, OnGuard, Cinnamon, Cassia or Ginger
Squeeze of fresh lime wedge to "brighten" the taste (optional)
Method
Mix all the chilled ingredients in a cocktail shaker or jar with ice and shake well. Pour into a rimmed glass and enjoy.
Rim Options
Dip the rim of the glass in caramel sauce and then dip in gluten free cookie crumbs.
Maybe try our favorite – Ginger Snap crumbs.
Rub a lime wedge around the rim and dip into sugar or cinnamon sugar.
Variations
Kid's Mocktail Version
Mix pumpkin, orange juice and 1 drop Wild Orange essential oil and shake well.
Pour into a prepared glass over ice
Top with ginger ale and a natural maraschino cherry.
Italian Soda
For Italian soda version, add a splash of milk or cream of your choice.